The site office, or "site hut" as it is also referred to, is the hub of any construction site. It provides storage space, accommodation for site managers, and is also the place where meetings are held. Site offices are normally prefabricated since they are temporary and only on the construction site until the project comes to an end.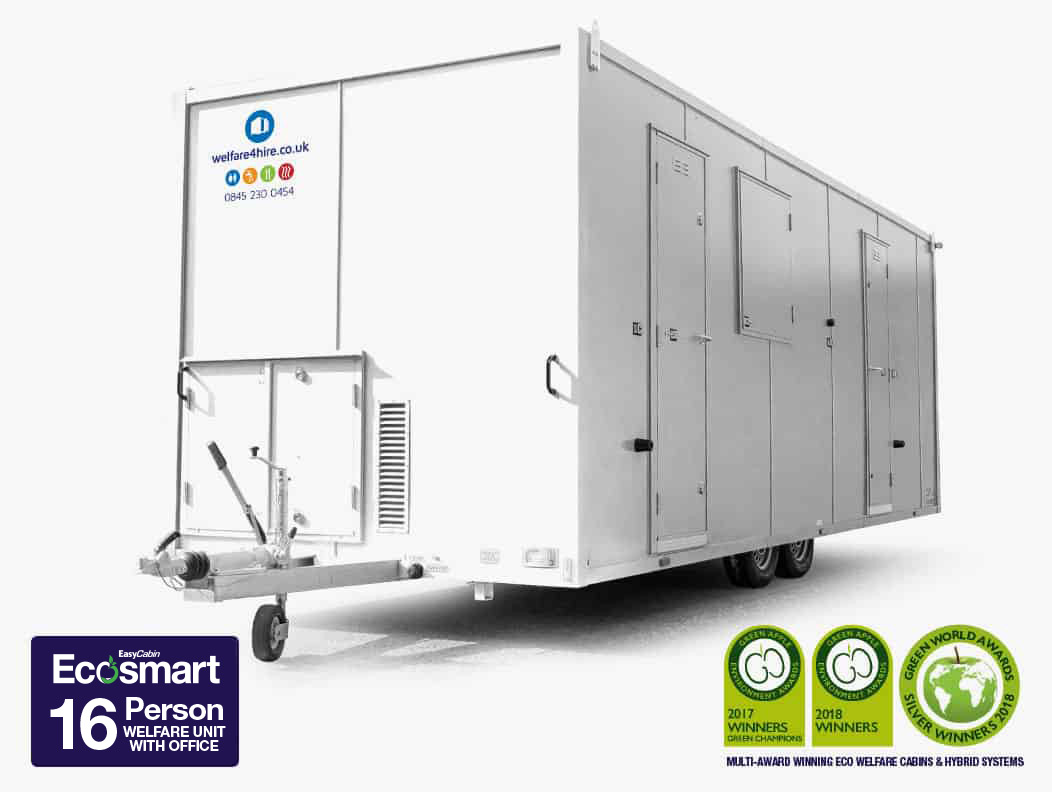 Welfare 4 Hire has the construction site office hire solution for you, in the form of a top-quality, temporary on-site office.
What are the advantages of having a temporary on-site office?
There are many advantages to opting for a temporary office from Welfare for Hire on your construction site, including:
Significant time-saving - every construction project involves a time limit, where work needs to be completed by a certain deadline. It makes sense, therefore, to save time, wherever possible. A temporary site office is a great time-saver since it can be erected in 30 - 60 % less time than it would take to construct a permanent office.
Excellent quality - apart from our products meeting all local building regulations, only the best possible materials are used for manufacturing our temporary offices. So you can rest assured that the one you get from us will meet all your particular requirements.
Money-saving - a temporary construction site office setup is a great, money-saving alternative to a permanent structure. The labour costs to erect a portable office is significantly lower than what you would have to pay an on-site crew of workers to construct a permanent office.
Eco-friendly - a portable office does a lot to help save the environment, since materials are measured prior to construction, so there is little to no waste at all.
Reduced energy costs - site offices heat and cool quickly, which helps a lot to keep energy costs low. By adding eco-friendly features like solar power, efficient generators, and/or low-watt fixtures, energy costs can be reduced even further.
Flexibility - it can be hard to increase or reduce the size of a permanent structure. A portable structure, on the other hand, is designed in such a way, that altering the size is extremely easy. They are made to be adaptable and moveable in just about all situations and come in sizes to suit every individual need.
Bigger return on investment - a portable office helps workers to complete important jobs. Temporary offices are erected so quickly, that workers are able to finish jobs more efficiently and faster. This, over a short period of time, saves money and increases profits.
Security control - security is yet another important benefit provided by having an on-site office. It allows you to have increased control over the construction project because you can keep important documents locked up, and also have temporary security fencing installed to keep restricted areas of the site blocked off. Computers and other necessary office equipment can also be housed securely in an on-site office.
However, there are several things to consider when planning an on-site office, including:
Size - careful planning needs to go into the size of the office. For instance, will it be able to accommodate all the people who will be using it, and all the equipment necessary in an office?
Portability - is the office portable enough to be placed exactly where you need it to be, and can it be moved to a different area of the construction site if necessary?
Eco-friendly - climate change is causing a negative effect to the entire planet, so it's important that you make a positive contribution by making sure that your construction site office setup is an environmentally friendly one.
Security - site offices are normally storage places for important documents and plans, so security is an essential aspect. Make sure that the office you need has a good security system in place before purchasing it.
Comfort - comfort is of utmost importance, particularly if it is going to be used for hours at a time by team members. This will help to increase productivity.
Convenience - make sure that your site office provides everything you need to prevent delays in your building project. Will it be easy to transport to your construction site? Are there sufficient power points? Can it be easily cleaned?
In other words, your construction site office setup, even though temporary, should provide a working environment that is as close as possible to a permanent office.
We are Welfare 4 Hire, have 10 and 16-man welfare units with offices to offer, that are guaranteed to suit all of the above requirements. Contact us today, our highly experienced team is looking forward to hearing from you!